Cloud software continues to be a bright spot in the current pandemic economy as organizations rush to digitize more operations, serve more customers online and set up new digital processes to handle—and secure—remote and hybrid work.
But that doesn't mean managing your own cloud company's workforce today is any easier.
Our fifth-ever Highest-Rated Cloud-Computing Companies To Work For lists, released today and compiled with data from jobs-and-recruiting site Glassdoor*, highlight private and public cloud companies who are doing it right—creating and sustaining high levels of employee satisfaction, and strong corporate cultures, in this unprecedented "Great Resignation" era.
This type of cultural success is not easy to achieve today. We're nearing the end of our second, painful pandemic year, and the new Omicron variant is throwing many companies' 2022 back-to-the-office plans out the window. Many organizations are still struggling to figure out hybrid or all-remote work setups; attend to increased employee mental health needs; and refine internal-communications programs in a still-uncertain economic environment. The pandemic has also made more employees open to changing jobs, or to taking sabbaticals or changing careers altogether. It's made employee hiring and retention far more challenging than usual.
Our winners, however, offer some lessons in how to successfully tackle these challenges. We identified these standout cloud companies by analyzing public and private, B2B-focused cloud companies with high measures of employee satisfaction, as measured by employee feedback provided on Glassdoor. The average public company on our list boasted an overall Glassdoor rating of 4.54, and the average private company's rating was 4.64—both significantly higher than the broader Glassdoor average of 3.7. Employee reviews cited these companies' inclusive cultures and growth opportunities, as well as positive work environments where employees felt supported and dedicated leadership teams. Many reviews also praised the companies' flexibility, particularly in terms of remote work and flexible hours.
Indeed, at 84% of the private companies that made the list, half or fewer employees work in the same state where their company is headquartered, according to LinkedIn data. Among the public-company winners, the figure was 72%.
In terms of geography, Northern California remained a hub of cloud-employee satisfaction: On both the public and private lists, more than half the winners were companies based in Northern California, mostly the San Francisco Bay Area—interestingly, a region that has taken Covid-related lockdowns seriously and pivoted significantly to remote and hybrid work. (Still, last year, even more private companies—72% versus 56% this year—hailed from the region, so other parts of the country appear to be catching up.) Sixteen percent of the private companies, and 12% of the public ones, are headquartered in New York; this year, 12% of the public companies hailed from overseas.
And as in previous years, we found that high employee satisfaction, and corporate transparency, often translate into business success. Seven of the private companies that made our first Covid-themed list last year have staged initial-public offerings since then:
Finally, it's interesting to note that many of our public and private winners operate in software sectors that have been impacted by the pandemic. Twenty percent of the public companies make workplace-collaboration software, tools that have obviously become more critical for many organizations as they shifted to remote and hybrid work over the last two years. And more security companies showed up on both our private list this year, demonstrating how new work patterns and customer-buying habits created more demand for software to keep those processes and transactions secure. Other sectors in which the winning companies operate include sales-and-marketing, data/business intelligence, vertical software, product software, finance and development tools.
Here are the 25 highest-rated public and private companies to work for in 2021:
Methodology: The private- and public-company reports identify cloud computing companies that are highest rated on Glassdoor, based on company ratings shared by employees, from 11/1/20-10/31/21. To be considered, a cloud company must have received at least 30 company reviews on Glassdoor during this timeframe. The private-company report tracks independent, non-public cloud companies that, according to Battery research and data from research service Crunchbase, are based in the U.S.; have a B2B business model; are categorized as SaaS, software, cloud computing and/or enterprise software, according to Crunchbase; have more than 200 employees as of 11/22/2021, according to company data provided to LinkedIn; and have raised funding on or after 7/01/2017. The public-company report tracks public cloud companies with a B2B business model that are listed on a US-based stock exchange and have at least $500 million in total enterprise value as of the end of Q3 2021, according to CapIQ.
A company's senior-leadership rating and positive business outlook rating—indicating the percentage of employees who believe their employer's business will get better in the next six months—was not taken into account to determine rank or overall company rating on either list, though we display these added data points for additional insight into each of these companies.
*By a company name denotes a current or past Battery investment. For a full list of all Battery investments and exits, please click here.
**Denotes a company that went public after 9/30/2021
***Next to a senior-leadership team rating or positive business outlook rating denotes that data is based on less than 30 ratings.
This material is provided for informational purposes, and it is not, and may not be relied on in any manner as, legal, tax or investment advice or as an offer to sell or a solicitation of an offer to buy an interest in any fund or investment vehicle managed by Battery Ventures or any other Battery entity. 
The information and data are as of the publication date unless otherwise noted.
Content obtained from third-party sources, although believed to be reliable, has not been independently verified as to its accuracy or completeness and cannot be guaranteed. Battery Ventures has no obligation to update, modify or amend the content of this post nor notify its readers in the event that any information, opinion, projection, forecast or estimate included, changes or subsequently becomes inaccurate.
The information above may contain projections or other forward-looking statements regarding future events or expectations. Predictions, opinions and other information discussed in this video are subject to change continually and without notice of any kind and may no longer be true after the date indicated. Battery Ventures assumes no duty to and does not undertake to update forward-looking statements.
*Denotes a Battery portfolio company. For a full list of all Battery investments, please click here.
Back To Blog
ARTICLE BY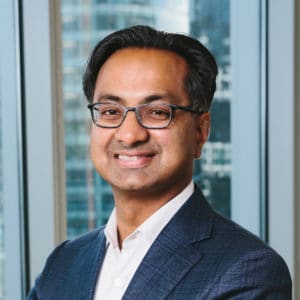 A monthly newsletter to share new ideas, insights and introductions to help entrepreneurs grow their businesses.
Subscribe