Earlier this spring, our firm released a slide deck outlining what we call the Five Forces of Software, offering our views of how software growth is accelerating and the forces behind this trend. In short, we estimate that software markets could be worth one trillion in revenue by 2030.
As every company becomes a software company, digital products are taking on more and more importance. Even further, well-designed digital products are a competitive advantage, particularly as the cost and complexity of building software continues to drop.  At early stage tech companies as well as age-old conglomerates, we are seeing design take on an increasingly prominent role in organizations – in shifting from a cost center to a driver of business value.  Organizations are hiring their first executive-level design officers, and companies are increasing the ratio of designers to developers across the board. From our discussions with heads of design in our portfolio and network, many leading companies have shifted the ratio of designers to developers over the past few years from approximately 1:10 to 1:4 or 5 today.
Digital Design as a Competitive Advantage
The reason these changes are happening is that companies that ignore design do so at their own peril.  From Uber's app, which is revolutionizing the world of transportation, to Netflix, which is doing the same for media and entertainment, to Airbnb, which is upending hospitality, Fortune 500 companies that have been around for hundreds of years with billions of market capitalization are being seriously challenged by digital upstarts that understand design and can build effortless experiences around them.
Interestingly, it is not only new disruptors that are using design as a competitive advantage to take down traditional incumbents but established businesses that are using design against less nimble competitors:
Domino's is a 57-year old pizza chain best known for its cheesy pizzas and home delivery. But the company has embraced a wholesale digital transformation over the last several years, which among other things resulted in Domino's beautifully designed and now-famous digital tracker, which provides consumers with real-time updates about when their pizza goes in the oven, is on the way to their house, and more.  Today, approximately 60% of Domino's orders come via digital channels.
In 2012, IBM, the century-old computer software and services mainstay, embarked on a mission to transform its engineering-first culture towards one that is more user-centric.  IBM has committed more than $100 million to this design initiative, will train its more than 375,000 employees on design thinking, and bring on more than 1,500 design staff across more than 43 global offices.
Last, but not least, even more conservative industries like financial services are also embracing design.  USAA, the Texas-based bank and financial services provider to more than 11 million military members and their families, is the original online-only bank.  With only one physical branch, USAA relies on digital products, primarily their mobile apps and web properties, to interact with their customers.  In turn, USAA recently hired its first-ever Chief Design Officer, a design agency veteran, and has embarked on building out its own design studio in neighboring tech hub Austin, Texas.
What is Design?
Over the last two years, we've had the good fortune to get to know dozens of heads of design from industries ranging from financial services to technology to retail and others, both within our portfolio and outside.  We've learned a few things along the way.
Design is not about making things pretty.  While many may think of design as making beautiful buttons, icons or pictures, design is much more than that.  Design is about understanding the true context of the end user, and delivering an experience that is so seamless it's essentially invisible.
Design is not just about designers.  While designers are an important part of the design process, there are so many more users inside companies that need to be involved:  executives, a company's board, marketers, product managers, and team members from development, legal, compliance and many more.
Our Investment in InVision*
We're excited to announce that our firm is leading a Series E investment in New York-based company InVision, whose products are being used by more than three million designers worldwide. In fact, InVision is so easy to use that even us venture capitalists were able to pull together an app prototype about our investment here.
We are thrilled to work with InVision's CEO Clark Valberg, COO David Fraga and many more who have been building the next platform for digital product design.  As startups and enterprises look to integrate design best practices and design thinking into their organizations, InVision is providing the toolsets for companies of all sizes to build great digital products. Specifically, while many of us in the tech world know InVision from our startup portfolio companies, many of which use the company's tools, they are also taking hold in larger enterprises like Nike, NBC, Intel and over eighty percent of the Fortune 100.
Digital design is providing consumers and businesses with experiences that are reshaping industries from banking to entertainment, hospitality and many more.  We are humbled and excited to partner with InVision.
Click here to experience the app prototype.
This material is provided for informational purposes, and it is not, and may not be relied on in any manner as, legal, tax or investment advice or as an offer to sell or a solicitation of an offer to buy an interest in any fund or investment vehicle managed by Battery Ventures or any other Battery entity. 
The information and data are as of the publication date unless otherwise noted.
Content obtained from third-party sources, although believed to be reliable, has not been independently verified as to its accuracy or completeness and cannot be guaranteed. Battery Ventures has no obligation to update, modify or amend the content of this post nor notify its readers in the event that any information, opinion, projection, forecast or estimate included, changes or subsequently becomes inaccurate.
The information above may contain projections or other forward-looking statements regarding future events or expectations. Predictions, opinions and other information discussed in this video are subject to change continually and without notice of any kind and may no longer be true after the date indicated. Battery Ventures assumes no duty to and does not undertake to update forward-looking statements.
*Denotes a Battery portfolio company. For a full list of all Battery investments, please click here.
Back To Blog
ARTICLE BY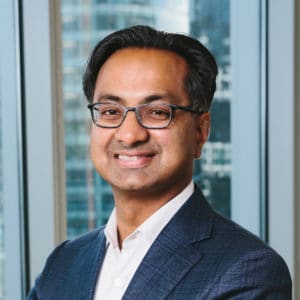 A monthly newsletter to share new ideas, insights and introductions to help entrepreneurs grow their businesses.
Subscribe