Software-company valuations are in the stratosphere these days. The median valuation for a public software-as-a-service (SaaS) company in 2010 was three times forward revenue; now the figure is 15 times forward revenue, according to CapIQ data, with many companies trading above 30 times next-12-months revenue. We sit today at an all-time high. So, why is this happening?
One reason is that there's simply a much better understanding of the SaaS business model today, with more than 40 public SaaS companies each generating north of $500 million in revenue a year and 20 companies generating over $100 million each in free cash flow, per CapIQ. Second, the SaaS model fared well during the pandemic: These companies offer a rare combination of predictable revenue, growth and high gross margin—all attributes valued by public investors, especially relative to other, less resilient sectors. Last, and perhaps most important, the current low interest-rate environment has put a significant premium on companies with the potential for long-term, compound revenue growth.
But all this is also happening as software business models become increasingly diverse, with many more playbooks for acquiring and monetizing customers. We think existing dogma around traditional SaaS metrics has become outdated—and the next decade of cloud innovation may make today's software valuations less lofty than they appear.
That is one of the key findings in our comprehensive new Battery Ventures "Software 2021" report, which we're releasing here today. We've been compiling this report since 2017 to track industry trends and key considerations for software founders looking to build more valuable businesses. In the report, we also take stock of this last decade in software, which saw SaaS companies create $2 trillion in realized enterprise value, per CapIQ data, and noodle on where we go from here.
Here are some of our big takeaways:
The fall of the "Metric Monolith": Traditional SaaS metrics may be outdated today
There is a common set of metrics that SaaS CEOs constantly hear about, and ones for which many new venture-capital analysts create notecards in their first week of training: gross margin, percentage recurring revenue, average deal size, etc. This metric model was created early in the last decade in the context of software companies that employ human sales reps to sell big enterprise deals to big companies.
But the software landscape is far more diverse today. Now, the market includes successful companies with lower gross margins like Twilio and Snowflake; companies that make significant revenue from payments, like Shopify and Lightspeed; and companies with average deal sizes of just a few hundred dollars each, like JAMF* and Asana. It is commonly said that SaaS is both a delivery model and a business model, but the latter strikes us as an oversimplification today.
We call this old-school framework the "metric monolith" because of how ingrained these old metrics are with investors. They're certainly still relevant for certain business models. But we need to expand our language for how we talk about software companies today, because many amazing companies look "bottom quartile" when judged against this traditional framework. Our advice: Stop forcing cloud-shaped companies into a square-shaped hole.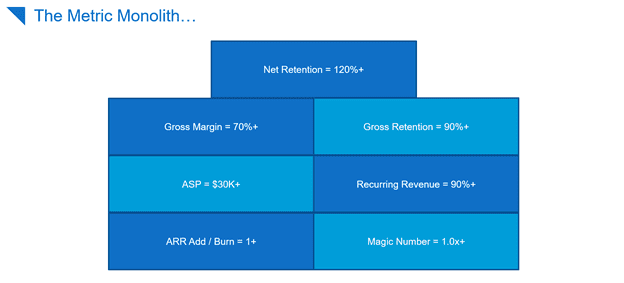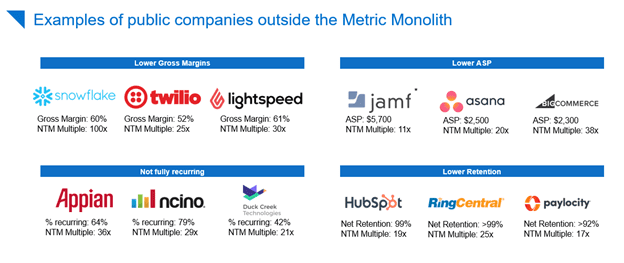 Source: Capital IQ, Company 10K, and Company S1s
* Denotes a Battery portfolio company. For a full list of all Battery investments and exits, please click here.
The answer: Focus on cohorts, not averages
One way to shift the discussion is to think more about metrics related to customer cohorts, and not averages across a customer base. Terms like "average deal size" and "average retention" are a lot less meaningful when some of your customers are developers swiping credit cards, and others are big companies working out invoicing plans after a lengthy sales cycle. (Our colleague Dharmesh Thakker has written extensively about this topic, particularly as it relates to cloud-infrastructure companies, in his "Cloud Native Entrepreneur's Playbook" series of blog posts.)
Averages are misleading! The best companies are shifting their dashboards from tracking "average XYZ" to measuring strictly defined cohorts in order to figure out which of their customer segments are healthiest and which customer-acquisition motions are worth prioritizing.
We B2B investors don't like to admit this, but consumer companies are often ahead of the ballgame in understanding their businesses in data-driven ways. We shouldn't feel too bad – generally, there are way more consumer companies then there are B2B companies, and consumer companies are naturally more data-rich (more customers and higher transaction velocity). Consumer companies figured out a long time ago that top-line revenue can be a "vanity metric." Whether you're selling mattresses or iPhone cases, what's relevant isn't how much you sell, but your unit economics. How much gross profit did you generate from selling an item? How much did it cost to acquire that customer? Are customers you acquire from Google or Instagram or other channels more profitable for you?
Today, the definition of annual recurring revenue (ARR) is being stretched to include payments revenue, consumption revenue, and low-retention monthly payments. To be clear, we don't think this is a bad thing! It is exciting to see cloud companies explore new ways of monetizing their products. But as ARR becomes a "big tent" term, we need to take the lead from our consumer friends and focus just as much on the quality of that revenue. We believe this level of thinking, on a cohort level, is the next wave in cloud software. Much like unit economics in the B2C world, we call this "cohort economics."


The pandemic is a double-edged sword
The pandemic has been devastating for many sectors of the economy and created an unprecedented global health crisis. But at the same time, it created a generational moment that accelerated digital transformation across industries. Global IT spend is projected to grow to $3.8 trillion dollars this year. Web and mobile traffic saw huge spikes, and industries like telehealth, food delivery, and ecommerce saw massive accelerations. Even the drug clinical-trial industry itself went digital, with new trial models helping novel therapies get approved in record times. Companies big and small took their offices fully remote and discovered new ways of interacting with their customers.
Venture capital markets, public markets, and M&A all at record levels
Even against the backdrop of a global pandemic, financial markets had a record year. SaaS multiples hit a record high; software companies raised over $50 billion in venture funding, an industry first; and after a decade-low figure for quarterly software M&A transaction value in Q2 ($3.7 billion), the market rebounded, and we saw a 10-year high ($70.9B) in Q4, according to CapIQ.
But this year also showed that not all companies are benefiting equally: Fourteen public software companies saw revenue growth accelerate this year, according to CapIQ, but four of those companies were already among the seven fastest-growing; venture dollars hit an all-time high, but deal count was at an eight-year low; and deals valued over $500 million accounted for 12% of software M&A transactions, a decade high.



Where do we go from here?
What will the next decade bring? The software industry saw a meteoric rise in growth this past decade, but it is still only 6% of the S&P 500. There is still plenty of headroom from here. Just as this past decade saw themes like machine learning and data governance go from niche to mainstream, new themes will emerge this decade. Novel business models and software delivery models will emerge. Software companies will continue to break out of traditional geographic corridors and become more global. SaaS metrics aren't going away just like GAAP metrics aren't going away, but the language we use to understand software businesses will continue to evolve.
Even after a global pandemic, we feel there has never been a better time to build a software company. It's not an easy journey to get there. There are over 120,000 software companies in the U.S., and less than 1% of them have over 5000 employees, according to LinkedIn data. But we're excited to support founders and help them get there.
Battery Ventures Software 2… by Battery Ventures
Battery Ventures provides investment advisory services solely to privately offered funds. Battery Ventures neither solicits nor makes its services available to the public or other advisory clients. For more information about Battery Ventures' potential financing capabilities for prospective portfolio companies, please refer to our website.
Content obtained from third-party sources, although believed to be reliable, has not been independently verified as to its accuracy or completeness and cannot be guaranteed. Battery Ventures has no obligation to update, modify or amend the content of this post nor notify its readers in the event that any information, opinion, projection, forecast or estimate included, changes or subsequently becomes inaccurate.
Back To Blog
ARTICLE BY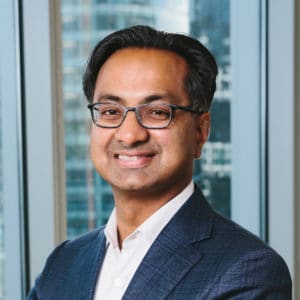 A monthly newsletter to share new ideas, insights and introductions to help entrepreneurs grow their businesses.
Subscribe