Several years ago, we introduced a new blueprint for growing SaaS revenue called "T2D3"—it focused heavily on how and when companies should hire certain types of sales reps and expand sales internationally. Since then, many software companies have evolved to focus on more-organic,  bottoms-up sales motions and the now-hot strategy of "product-led growth". Still others are experimenting with consumption-based pricing to glean revenue almost like a utility, charging customers only for the technology they're actually using.
But the reality today is that most software sales involve a complex blend of all these different strategies and motions, many triggered at various points on a company's growth trajectory and varying according to the specific customer segment, product and price point. And in my mind, no one understands this better than Bill Binch.
Bill, who today officially joins Battery as an operating partner, is one of the best sales executives I've ever met, and one whose knowledge and experience in enterprise software has made him a cultural leader at many of the companies at which he's worked. At Battery, he'll specifically help our software portfolio companies navigate their various stages of growth, expand overseas and create multi-product sales platforms.
I first met Bill in 2011 when Battery invested in marketing-software company Marketo* (a great example of T2D3!), where Bill was the senior vice president of sales. Bill stood out for his tenaciousness and ability to recruit great people, among other talents. He had been at Marketo, along with CEO Phil Fernandez, from the beginning—meaning zero revenue– and stayed at the company through its journey to $100 million in revenue and an initial-public offering. Bill and I built a strong professional bond and friendship over the years. So when Bill completed his last role at Marketo managing its Asia Pacific business, I knew I wanted to keep him in the Battery family.
That opportunity came a few years later when our company Pendo* was looking for a new sales leader. At first, Pendo CEO Todd Olson was only looking for candidates at Silicon Valley tech companies—but I suggested he speak with Bill, who was based in Arizona with his family. Todd wound up connecting with Bill on a trip Bill was taking to Disney World in Florida with his kids. Mickey Mouse's magic apparently worked, and Bill joined Pendo in early 2018.
There, he served as Pendo's chief revenue officer and helped scale the company from roughly $10 million in ARR to nearly $100 million in three years.
Bill's success at rapidly scaling, private software companies was not surprising, given his extensive track record as a sales executive at larger public companies like Oracle, BEA and PeopleSoft. He has also helped advise other startups, including Qvidian, Birst, Conversica, Integrate Inc. and Node.io. Bill started his career after earning a BS in marketing from Arizona State University; later, he completed Harvard Business School's strategic sales program.
Bill will play a critical role at Battery both in helping us evaluate new investments and serving as a high-level advisor and coach to CEOs, CROs and other sales executives in our portfolio—work he's already started for us, to great effect. He complements our existing and growing portfolio-services team, which includes experts in areas such as talent, business development, marketing and sales operations, as well as ex-executives with specific technology-sector expertise and deep leadership experience. These professionals include Max Schireson, the former CEO of MongoDB, and Rene Bonvanie, formerly the CMO of Palo Alto Networks.
I could not be more excited to welcome Bill to the Battery team and give him an opportunity to share his wealth of knowledge with our portfolio. I know his impact will be great.
This material is provided for informational purposes, and it is not, and may not be relied on in any manner as, legal, tax or investment advice or as an offer to sell or a solicitation of an offer to buy an interest in any fund or investment vehicle managed by Battery Ventures or any other Battery entity. 
The information and data are as of the publication date unless otherwise noted.
Content obtained from third-party sources, although believed to be reliable, has not been independently verified as to its accuracy or completeness and cannot be guaranteed. Battery Ventures has no obligation to update, modify or amend the content of this post nor notify its readers in the event that any information, opinion, projection, forecast or estimate included, changes or subsequently becomes inaccurate.
The information above may contain projections or other forward-looking statements regarding future events or expectations. Predictions, opinions and other information discussed in this video are subject to change continually and without notice of any kind and may no longer be true after the date indicated. Battery Ventures assumes no duty to and does not undertake to update forward-looking statements.
*Denotes a Battery portfolio company. For a full list of all Battery investments, please click here.
Back To Blog
ARTICLE BY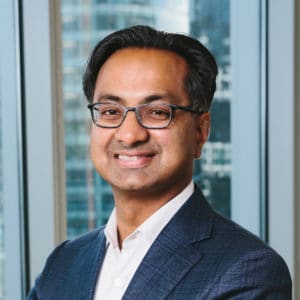 A monthly newsletter to share new ideas, insights and introductions to help entrepreneurs grow their businesses.
Subscribe