One year ago, we wrote that We Used to Go to Work. Now, more than two years since the dawn of Covid, it feels safe to say that the shift to hybrid and remote work is here to stay.
This "new normal" has spurred the adoption of many new, work-related technology tools and processes, including those around collaboration and employee training. But one area that we think remains in need of a tech shake-up is employee benefits and perks.
Programs like 401k matching and health-savings accounts have been viewed as table-stakes benefits by employees for years. To differentiate, companies began offering perks like in-office lunches and local gym discounts (larger tech companies, of course, offered everything from free dry cleaning to onsite massages). But these on-site perks are less relevant in a world where many of employees may go into the office only part of the week, if at all.
So given this new work normal, how can employers differentiate their benefit and perks offerings today? Some companies have experimented with offering various perk "point solutions" through different vendors filling various niches (e.g. student-loan repayment or fertility treatments). Utilization of any specific perk varies, but it's commonly less than 10%. What's more, this approach can lead to administrative headaches for HR, given the larger number of perks and programs to manage.
Today, we're excited to announce a new investment in a company called Compt* that's pursuing a different—and we think better—approach. Compt's idea is to empower companies to create perk-stipend programs in which employees are given a time-bound budget in selected categories (for example, "health & wellness" or "productivity") and allow employees to select their own vendors and receive reimbursement. It gives employees more choice and reduces the administrative burden on HR staff.
At first glance, this sounds pretty simple. But implementing these types of programs historically has been difficult due to 1) complexities around which benefits are taxable, and which are not, and 2) how these stipends flow through to payroll (a complexity that is multiplied with an international workforce). Compt's CEO, Amy Spurling, saw this administrative complexity with the stipend approach firsthand during her prior experiences as a COO and CFO at previous companies, which led her to start Compt.
Building culture in a remote/hybrid world is very difficult. Amy likes to say that your perks will never be your company culture, but they can help reinforce your values. If you tell your employees that their health and wellness is a priority, or that they should be able to work from their local co-working space without headache, or that they should be able to create a work-from-home setup without emailing back-and-forth with finance, Compt is the easy way to make all those things happen.
We've spoken with several Compt customers as part of our diligence and included some of our favorite quotes from them below. One thing that we've heard over and over again from customers is that the product is being built with uncommon empathy. It is clear that the company understands the needs of HR, finance and employees, and that Compt's product was built to solve a personal pain point. This empathy has helped lead to 90% employee engagement, according to the company, and has made "Compt" a verb at among some of the company's customers.
We're excited to get to work with Amy and the Compt team and feel lucky they've invited us on this journey to help companies better communicate their shared values with employees.
—-
What Compt's customers are saying
"We've only been live on the platform for one month . . . But out of our 7200 employees, 5000+ have already registered an account, which is nuts! We can't even get half of those people to opt in for our 401k and we match contributions."
"We knew we wanted to run a perks program for our commitment to wellness and announced that to the company, but we didn't know how we were going to do it. Emailing receipts for an organization our size would be far too time-consuming and submitting through expense software is not compliant. We wanted to show employees we actually cared about their wellness and had already promised we would offer stipends, and Compt helped us do it."
"We never get any complaints on usability or user experience. Compt is probably one of the most-favored tools in the organization because of how easy it is to use – it's literally three clicks. Optimizing for simplicity here is the most important thing."
"We knew we wanted to roll out stipends, but intentionally didn't roll out a program before we onboarded Compt. We needed to know it was compliant and Compt is airtight."
"Compt is intentionally built with the admin in mind. You can tell Amy was a CFO in her past life as an admin interacting with the product – it's clear someone who built this has felt our pain."
"One of the stipends we created through Compt is a reimbursement once a quarter for a meal at any of the [our] clients. We want our employees to see the product of their hard work in action and this is the perfect way to do it. Compt has allowed us to show our employees we want them to be connected and invested in the generational platform we're building together."
This material is provided for informational purposes, and it is not, and may not be relied on in any manner as, legal, tax or investment advice or as an offer to sell or a solicitation of an offer to buy an interest in any fund or investment vehicle managed by Battery Ventures or any other Battery entity. 
The information and data are as of the publication date unless otherwise noted.
Content obtained from third-party sources, although believed to be reliable, has not been independently verified as to its accuracy or completeness and cannot be guaranteed. Battery Ventures has no obligation to update, modify or amend the content of this post nor notify its readers in the event that any information, opinion, projection, forecast or estimate included, changes or subsequently becomes inaccurate.
The information above may contain projections or other forward-looking statements regarding future events or expectations. Predictions, opinions and other information discussed in this video are subject to change continually and without notice of any kind and may no longer be true after the date indicated. Battery Ventures assumes no duty to and does not undertake to update forward-looking statements.
*Denotes a Battery portfolio company. For a full list of all Battery investments, please click here.
Back To Blog
ARTICLE BY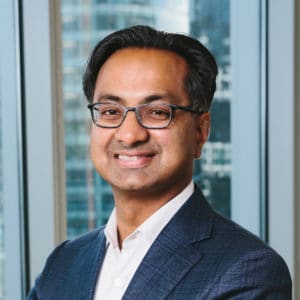 A monthly newsletter to share new ideas, insights and introductions to help entrepreneurs grow their businesses.
Subscribe