The 50Th anniversary of the Immigration and Nationality Act of 1965 occurred earlier this month. Not many people talk about this act today, but it has had a dramatic impact on the nation's immigration and ethnic composition, as well as on U.S. technology and innovation more broadly.  And of course, I would have lived a totally different life without this groundbreaking legislation.
It's hard to believe that prior to 1965, our country had immigration quotas that were based on race and country of origin. About 70% of new immigrants admitted to the U.S. came from just three countries—the U.K., Ireland and Germany—while people from everywhere else faced strict quotas. This severely limited immigration from all countries except a few in Western Europe. But in 1963, during the height of the civil rights movement, President Kennedy said this quota-system was "nearly intolerable".  His brother, Senator Ted Kennedy helped steer the immigration law through the Senate.  After JFK's assassination, President Lyndon Johnson signed the Act into law on Ellis Island on October 3rd, 1965. Under the new law, immigrants were allowed into the U.S. based on family ties and their specific work skills, no matter where they came from.
My parents immigrated to the US based on this act.  In 1966, my father applied to re-do his medical residency in Queens, NY, after already completing his residency in India.  He was willing to re-do what many consider the harshest training of any professional career because of the promise of a better life for him and his family in the U.S. And he was allowed to do it because the immigration act prioritized family relationships and high-skilled immigrants like him. In my mind, this legislation really kicked off the great American brain gain and the growth of our technology industry.
From Satya Nadella at Microsoft, to Sergey Brin and Sundar Pichai at Google, to Jerry Yang at Yahoo, it's possible that none of these leaders would be in this country had this law not passed. E-commerce company Wayfair*, in my hometown of Boston, was co-founded by Niraj Shah, a second-generation Asian Indian, and the company now employs around 2,000 people. Many more successful companies were started by first- and second-generation immigrants. My colleague Scott Tobin recently wrote a thoughtful piece about policy changes in the former Soviet Union in the mid-1980s that enabled many Jews, including Brin, to leave for the West (and Israel) and pursue entrepreneurial ventures there. Another Russian immigrant success story involves Rob Bernshteyn, CEO of my portfolio company Coupa*, whose family came to the U.S. when he was six. Last year he wrote about how he figured out the U.S. capitalistic system by trading baseball cards as a teenager.
Our country now faces a new immigration challenge. While much of the recent political debate has been about immigration more broadly, and seems predicated on fear (thanks Donald Trump!!), there is also a huge problem in current U.S. policy regarding highly-skilled immigrants, many of whom get educations here or work only on highly competitive, temporary visas. Right now, the U.S. makes only 140,000 employment-based visas available, in total, for skilled immigrants and a few other classes of workers who want to work permanently in the U.S. Imagine how many more incredible companies would be started in America if we embraced the next logical phase of immigration reform and made temporary and permanent visas for skilled workers easier to obtain and keep—easier than it's been since 1965–and also provided a green card to the many foreign-born students majoring in technical subjects, like engineering.
As a nation, we must rally around this issue. Highly skilled immigrants are crucial for the continued innovation culture and economic growth of the country. And that's great for job growth for all Americans. It amazes me that we embrace foreign-born students and pour significant resources in educating them in technical fields, and then we send many back home. How does this make long-term sense for our nation?  Why bother educating the most promising individuals if we are just going to let them compete against American companies?  If they want to stay, we should embrace them. Maybe they will start great companies, and maybe their kids will enter the venture-capital industry and finance the next great entrepreneur.
Specifically, I believe we should rally around a new immigration act to embrace foreign-born technical graduates.  Perhaps we start with stapling visas to masters and PhD degrees in technical fields, but let's get started right away. Our pluralistic nation is still the world's technology leader, but other countries are catching up, and we must act now.
In the meantime, I'm extremely grateful personally to some of the great leaders of this nation (JFK, Ted Kennedy and Lyndon Johnson) for letting my father enter this country and changing the trajectory of countless generations of future Agrawals. (In the below photo from the late 1970s, I'm the small kid.)  #immigration #gratitude
Here's a list of first and second generation immigrant founders & CEOs with whom I've been fortunate to work over the last 15 years at Battery Ventures:
| | | | |
| --- | --- | --- | --- |
| Company | Name | Title | Country |
| AppDynamics | Jyoti Bansal | Executive Chairman and Founder | India |
| BladeLogic | Dev Ittycheria | CEO and Co-Founder | India |
| BladeLogic | Vijay Manwani | CTO and Co-Founder | India |
| Brightree | Dave Cormack | CEO | Scotland |
| Catchpoint | Mehdi Daoudi | CEO and Co-Founder | Morocco |
| Catchpoint | Drit Suljoti | VP Product and Co-Founder | Albania |
| Catchpoint | Veronica Ellis | VP Engineering and Co-Founder | Uruguay |
| Coupa | Rob Bernshteyn | CEO | Russia |
| Guidewire | Marcus Ryu | CEO and Co-Founder | Korea |
| Guidewire | James Kwak | Co-Founder | Korea |
| Guidewire | John Seybold | Co-Founder | Canada |
| Guidewire | John Raguin | Co-Founder | France |
| Marketo | Phil Fernandez | CEO and Co-Founder | Cuba |
| Nutanix | Dheeraj Pandey | CEO and Co-Founder | India |
| Nutanix, Cohestity | Mohit Aron | Co-Founder | India |
| Sprinklr | Ragy Thomas | CEO and Founder | India |
| Tealium | Ali Behnam | Co-Founder | Iran |
| VSS Monitoring | Martin Breslin | CEO and Founder | Ireland |
| Wayfair | Niraj Shah | CEO and Co-Founder | India |
Estimated jobs created by these hard-working entrepreneurs: more than 9,000 and counting!
Neeraj Agrawal is a general partner at Battery Ventures based in Boston.
This material is provided for informational purposes, and it is not, and may not be relied on in any manner as, legal, tax or investment advice or as an offer to sell or a solicitation of an offer to buy an interest in any fund or investment vehicle managed by Battery Ventures or any other Battery entity. 
The information and data are as of the publication date unless otherwise noted.
Content obtained from third-party sources, although believed to be reliable, has not been independently verified as to its accuracy or completeness and cannot be guaranteed. Battery Ventures has no obligation to update, modify or amend the content of this post nor notify its readers in the event that any information, opinion, projection, forecast or estimate included, changes or subsequently becomes inaccurate.
The information above may contain projections or other forward-looking statements regarding future events or expectations. Predictions, opinions and other information discussed in this video are subject to change continually and without notice of any kind and may no longer be true after the date indicated. Battery Ventures assumes no duty to and does not undertake to update forward-looking statements.
*Denotes a Battery portfolio company. For a full list of all Battery investments, please click here.
Back To Blog
ARTICLE BY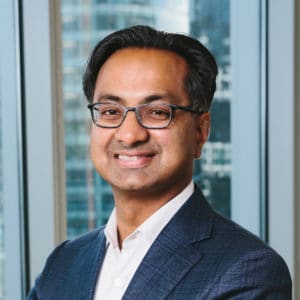 A monthly newsletter to share new ideas, insights and introductions to help entrepreneurs grow their businesses.
Subscribe