*This Q&A with Neeraj Agrawal originally appeared on Nasdaq's website as part of their #MeetaVC campaign. The campaign highlights venture capitalists and their partnership with transformative entrepreneurs.
Nasdaq: How did you start in the venture-capital community?
Neeraj Agrawal: It was somewhat accidental. After studying computer science in college, I really wanted to move into product management at a software company. In 1999 I was interning at a company called RealNetworks and excited about the possibility of delivering video over the Internet. During my second year of business school, Battery Ventures reached out and asked if I wanted to do a project on the "streaming video" market. I found the project fascinating and after graduation, Battery offered me a position as a senior associate. I initially thought it would be a two-year gig, but my time here has been such an amazing journey that I am now approaching my 16-year anniversary!
Nasdaq: What's a day in your life as a VC like?
NA: I spend about half my time meeting companies that could be new investment opportunities. I meet on average 100-200 companies a year, though I only make one to two new investments. I spend the other half of my time working with my existing portfolio companies–attending board meetings, plus helping with recruiting, financings and other strategic matters. These days I also spend some time writing blog posts and discovering and sharing new content on Twitter. Overall, it is hard for me to call this profession work. Many founders come into Battery and share everything they have learned about a specific product market in a short, 90-minute meeting. We get to be sponges, asking lots of questions, and then we get to do it again and again. It's really intellectually exciting to figure out which of these investments to make and then how to help the founders achieve their goals.
Nasdaq: How many companies have you invested in and what is your overall investment?
NA: I have invested in 25-30 companies over my time at Battery. Our typical investment is in the $15-20 million range, so I estimate I've invested between $400-$500 million over the years. This is across multiple funds, though, so it's not a number I actively think about.
Nasdaq: What stage do you focus on and how much capital do you look to deploy for each portfolio addition?
NA: I am pretty balanced across all stages. In general, I target about a third of my dollars into seed/series A investments, a third into mid-stage (series B or C) and the remaining into later stage deals or pre-IPO rounds. The typical investment for me is in the $15-$20 million range over the life of the investment, but several of my investments are in the $40 million range.
Nasdaq: What matters to you most when evaluating a company as a potential fit for your firm, and how does that relate to the ambitious companies that you have worked with in the past?
NA: At a high level, we evaluate four key ingredients to any new investment: team, market, technology and the deal itself (valuation, size of round, etc.) Team and market are the most important variables. Some VCs argue team is the most important factor, while others claim market is everything. I've come to appreciate both of them as being equally important to a successful outcome. I do think a lot about the open-endedness of a market opportunity, assuming things go well. I have found that is when the real 'upside' happens.
Nasdaq: What advice do you offer to a first time founder?
NA: I believe the journey of a founder is a fun and rewarding one, but full of potholes along the way. Many of our founders work at it for 10 or more years before they achieve a liquidity event. We talk about some of these potholes in our original article about building SaaS companies, a process we dubbed the "SaaS Adventure." Ultimately, I believe the journey requires incredible perseverance. Running a company also, eventually, turns into an HR-dominated position: You're focused on hiring, retaining and motivating a team, and these activities will ultimately determine whether you have a good or a great outcome. Specific advice would be, don't be afraid to hire folks smarter than you. Don't be afraid to hire seasoned executives early in the journey – yes, they are expensive, but great people attract other great people. And ultimately it takes a village to build a large and successful company.
Nasdaq: What is the one common denominator that stands out to you across all investments your firm has made during its history?
NA: It comes down to picking great markets and great teams to execute against specific opportunities. If the market never proves to be a large and interesting one, it's very hard for even the best teams to execute well. However, even if the market opportunity is strong, it requires an incredible team to compete and come out first or second in the market – third- or fourth-place finishers don't generate outsized returns. Timing the market is the other 'secret' ingredient. If you are too early for your opportunity, you run out of money before the demand or market inflection point happens; if you're too late, others might already have captured leadership positions and built insurmountable moats to thwart competitors. And of course, I would be remiss by not saying that luck matters a lot.
Photo courtesy of Nasdaq
This material is provided for informational purposes, and it is not, and may not be relied on in any manner as, legal, tax or investment advice or as an offer to sell or a solicitation of an offer to buy an interest in any fund or investment vehicle managed by Battery Ventures or any other Battery entity.
The information and data are as of the publication date unless otherwise noted.
Content obtained from third-party sources, although believed to be reliable, has not been independently verified as to its accuracy or completeness and cannot be guaranteed. Battery Ventures has no obligation to update, modify or amend the content of this post nor notify its readers in the event that any information, opinion, projection, forecast or estimate included, changes or subsequently becomes inaccurate.
The information above may contain projections or other forward-looking statements regarding future events or expectations. Predictions, opinions and other information discussed in this video are subject to change continually and without notice of any kind and may no longer be true after the date indicated. Battery Ventures assumes no duty to and does not undertake to update forward-looking statements.
Back To Blog
ARTICLE BY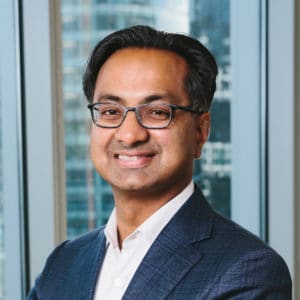 A monthly newsletter to share new ideas, insights and introductions to help entrepreneurs grow their businesses.
Subscribe