Each year, we work with jobs-and-recruiting site Glassdoor* to unearth the most innovative cloud-computing companies—both public and private—where employees report the most satisfaction at work. This year, that effort took on new importance.
With the Covid-19 pandemic still raging, and most workplaces upended by work-from-home and an uncertain economy, company culture and workplace transparency have never been more important. That's why we decided to produce a special, pandemic version of our pubic- and private-company lists this year, tracking company culture over a six-month period (March 1 through August) in our new Highest-Rated Cloud Computing Companies to Work for During the Covid Crisis rankings.
As before, we analyzed private and public, B2B-focused cloud companies with great records of employee satisfaction, as measured by employee feedback provided by Glassdoor. The average public and average private company on our list each boasted an overall Glassdoor rating of 4.5, significantly higher than the broader Glassdoor average of 3.5. It's clear the companies on our list have stayed nimble and creative during the pandemic and worked hard to keep employees motivated in incredibly trying circumstances.
More specifically, this year's lists reveal a lot, at least to me, about the "haves and have nots" nature of the technology sector right now. Companies that provide services in areas like hospitality, travel and brick-and-mortar retail are obviously hurting. Meanwhile, many wonkier B2B cloud companies are continuing to grow. Some, like our #1 public-cloud company Zoom, directly provide technology that companies desperately need to address the work-from-home reality right now—think collaboration software, videoconferencing or cybersecurity.
Others make products that companies need to stay competitive in a tighter, recessionary economy, either to cut costs or offer better, increasingly digital services to customers. Indeed, on our private list, companies in areas like sales-and-marketing software and data/AI predominated. Our #1 private company, Dataiku*, makes data-science technology to help companies better leverage data to improve their businesses.
What's more, a surprising 10 of our top private companies raised financing during the pandemic (through Nov. 1), according to Crunchbase. These included Dataiku*, Couchbase, Asana, Fivetran, Collibra*, Podium and Stripe, all of which announced funding before September. In addition, Tanium, Seismic and Sprinklr* raised funds in September or October, according to Crunchbase.
But even at companies that are doing well today, despite the broader economic (and now election transition!) drama, executives still face big HR and culture challenges. In my portfolio of cloud companies, I see CEOs grappling with issues including:
Rallying the troops. It's just harder to do this over videoconferencing, and everyone has Zoom fatigue. Many employees are still struggling with childcare and school issues, too. Some of my companies are doing creative things beyond just virtual happy hours—Dataiku* has dedicated "happiness managers" to check in on employees and launched an internal podcast, as well as smaller fireside chats. At Battery, we've done virtual pumpkin carving and a happy hour where a guest bartender taught everyone how to make the perfect margarita over video (we sent all the supplies in advance). Just a couple of weeks ago I finally had members of my team over to my actual house for drinks and appetizers, outside, which was really nice.
Hiring and onboarding. I realize this is a "good" problem to have, with so many companies doing layoffs and small businesses closing up for good. But some of my companies continue to grow headcount at 30% to 100% a year, and that means interviewing people virtually—even senior executives in the C-suite—and then onboarding them online, too. My Battery colleague Kelly Kinnard, one of our VPs of talent, wrote a great blog post about virtual onboarding earlier this fall. As a new employee or executive, it's obviously tough to get your bearings in a new company and develop key relationships when you can't meet anyone face-to-face. A lot of my CEOs are also discussing whether to allow new exec-team members to join remotely and continue living in other cities than where their companies are based. Traditionally, even in some companies that sanction remote work, the executive team would still be located in one place.
Office space. (No, not the movie, which is really good if you haven't seen it.) Companies that signed huge office leases in big cities like San Francisco and New York in the months before the pandemic hit are, unfortunately, now stuck with pricey office space they're not using, and may not use in the foreseeable future. Meanwhile, some of my companies with more real-estate flexibility in their budgets are talking about re-imagining offices to make them primarily meeting spaces. Employees would continue to work mostly from home, coming in only for important, in-person confabs. While this might be more practical and save money, there are obviously costs on the HR/culture side of the equation too.
When to hire an HR professional. Most early-stage companies struggle with when to bring in a real HR professional—and most wait too long. As I wrote in separate blog post last year about the changing nature of the startup/CEO role, scaling a company through smart recruiting is just as important as scaling through product improvements and moving into new markets. Good VPs of HR should be leveraged as strategic executives, not just people focused on more tactical matters like administering benefits. This is even more true today, when issues like recruiting, onboarding, and the often-neglected internal-communications function can make-or-break a pandemic-era company. You should make sure you're hiring a VP of HR by the time you get to 100 employees, and possibly sooner.
Overall, I'm happy to be on the other side of the March to June period of the pandemic, which was incredibly intense and stressful. But we ultimately saw that the world didn't collapse and that many companies, especially those in the B2B cloud sector, can survive and thrive despite Covid-19. But in the next six to 12 months, I predict companies that do continue to thrive will do so partly by focusing on culture and workplace issues. This may include implementing innovative programs to connect at-home employees; re-imagining office space; re-thinking the dynamics of meetings, even at the executive-team level; and focusing more on HR as a core business function. The companies on our list this year likely are already a step ahead of these challenges.
Here are the 25 highest rated private and public cloud-computing companies to work for during the Covid crisis:
Methodology: The private- and public-company reports identify cloud computing companies that are highest rated on Glassdoor, based on company ratings shared by employees, from 3/1/20-8/31/20. To be considered, a cloud company must have received at least 20 company reviews on Glassdoor during this timeframe. The private-company report tracks independent, non-public cloud companies that, according to Battery research and data from research service Crunchbase, are based in the U.S.; have a B2B business model; are categorized as SaaS, software, cloud computing and/or enterprise software, according to Crunchbase; have more than 200 employees as of 8/28/2020, according to company data provided to LinkedIn; and have raised funding on or after 7/01/2016. The public-company report tracks public cloud companies with a B2B business model that have at least $500 million in total enterprise value as of the end of Q3 2020, according to CapIQ.
A company's senior-leadership rating and positive business outlook rating—indicating the percentage of employees who believe their employer's business will get better in the next six months—was not taken into account to determine rank or overall company rating on either list, though we display these added data points for additional insight into each of these companies.
*By a company name denotes a current or past Battery investment. For a full list of all Battery investments and exits, please click here.
**Denotes a private company that went public or was acquired after 8/28/2020
***Next to a senior-leadership team rating or positive business outlook rating denotes that data is based on less than 20 ratings.
This material is provided for informational purposes, and it is not, and may not be relied on in any manner as, legal, tax or investment advice or as an offer to sell or a solicitation of an offer to buy an interest in any fund or investment vehicle managed by Battery Ventures or any other Battery entity. 
The information and data are as of the publication date unless otherwise noted.
Content obtained from third-party sources, although believed to be reliable, has not been independently verified as to its accuracy or completeness and cannot be guaranteed. Battery Ventures has no obligation to update, modify or amend the content of this post nor notify its readers in the event that any information, opinion, projection, forecast or estimate included, changes or subsequently becomes inaccurate.
The information above may contain projections or other forward-looking statements regarding future events or expectations. Predictions, opinions and other information discussed in this video are subject to change continually and without notice of any kind and may no longer be true after the date indicated. Battery Ventures assumes no duty to and does not undertake to update forward-looking statements.
*Denotes a Battery portfolio company. For a full list of all Battery investments, please click here.
Back To Blog
ARTICLE BY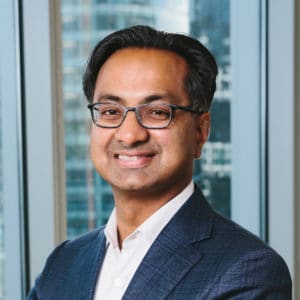 A monthly newsletter to share new ideas, insights and introductions to help entrepreneurs grow their businesses.
Subscribe