On January 24, 2017, Cisco announced its $3.7 billion acquisition of application performance monitoring leader AppDynamics* in the largest-ever acquisition of a private software company.
Here we'd like to take a look back at a post from 2015, in which AppDynamics' founder and former CEO Jyoti Bansal sits down with Battery Ventures General Partner Neeraj Agrawal to discuss what it takes to build a break-out software company. In his seven years at the helm of AppDynamics, Bansal grew the company from a tiny startup to a large industry player.
In segment 1, above, Bansal–who was born into an entrepreneurial family in India–tells Agrawal he always knew he wanted to pursue both technology and business in his career. Upon arriving in the United States, Bansal describes learning one of the most important lessons of building a tech company during his first startup job: "Never build technology for technology's sake; you need to solve a hard problem."
In the early days of AppDynamics, he told employees they each had to meet with two customers weekly—a key step, he says, in finding product-market fit. Bansal describes how these customer conversations were designed not to be sales calls, but learning opportunities to determine if the company's products were really meeting customers' needs. Bansal says he would always close his own customer conversations by saying, "How would you make the business case to your boss to pay for this?" That's the ultimate litmus test for determining product-market fit, he says.
Segment 2: Complement Your Blind Spots
In the next segment, Bansal and Agrawal offer advice for honing a company's sales process–including finding the right buyer to target. Since it can take years to monetize one product use case, Bansal recommends initially focusing sales resources on the buyers for that single use case, which allows a company to excel in that specialty before expanding. Another issue for many B2B tech companies is that titles in IT departments can vary drastically by company, making the right buyer difficult to discern. AppDynamics dealt with that problem by focusing on the actual responsibility of an individual in an IT department–not necessarily his or her title–and figuring out the first person who would be called when an application wasn't working. It could be an IT-operations professional or a developer.
Bansal also hired a VP of sales as one of his first sales hires, instead of bringing on several more junior reps. "I didn't have experience running a sales organization, so I wanted to surround myself with someone who had that experience. I needed a partner who would complement the management team, and outline that right sales process and hire the right people to help us scale," he explains.
Segment 3: Global Expansion
Here, Bansal and Agrawal chat about international expansion and the freemium business model, by which a product is initially offered to customers free. Bansal says most companies will naturally sell first internationally into large European economies like the U.K., Germany and France. But those countries may not necessarily be the best spots for setting up a company's first overseas offices. "Success comes down to finding the right sales leader. Find the right leader, and then find the location," he says. "Why find the location and then restrain yourself?"
Jyoti Bansal was the second guest in Agrawal's SaaS Adventure video-interview series. In the series, Agrawal, analyzes the ins-and-outs—and ups and downs–of building a breakout software company, offering lessons for entrepreneurs. To watch previous episodes of the SaaS Adventure series click here. And here is link to Neeraj's inaugural SaaS Adventure blog post, which sets the stage for these CEO interviews.
To watch more of Jyoti Bansal's interview with Neeraj Agrawal click here and here.
This material is provided for informational purposes, and it is not, and may not be relied on in any manner as, legal, tax or investment advice or as an offer to sell or a solicitation of an offer to buy an interest in any fund or investment vehicle managed by Battery Ventures or any other Battery entity. 
The information and data are as of the publication date unless otherwise noted.
Content obtained from third-party sources, although believed to be reliable, has not been independently verified as to its accuracy or completeness and cannot be guaranteed. Battery Ventures has no obligation to update, modify or amend the content of this post nor notify its readers in the event that any information, opinion, projection, forecast or estimate included, changes or subsequently becomes inaccurate.
The information above may contain projections or other forward-looking statements regarding future events or expectations. Predictions, opinions and other information discussed in this video are subject to change continually and without notice of any kind and may no longer be true after the date indicated. Battery Ventures assumes no duty to and does not undertake to update forward-looking statements.
*Denotes a Battery portfolio company. For a full list of all Battery investments, please click here.
Back To Blog
ARTICLE BY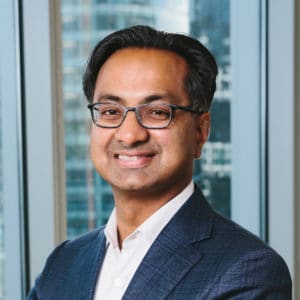 A monthly newsletter to share new ideas, insights and introductions to help entrepreneurs grow their businesses.
Subscribe