What is it that makes people so quick to pit New York against Boston—in sports, politics and, lately, technology?
It's the latter rivalry that interests me, a Boston-based but New York-born venture-capital investor. I definitely noticed, for instance, VC blogger Dan Primack's recent column decrying what he called New York's over-hyped VC scene. New York has delivered only a single, billion-dollar VC exit—Tumblr's sale to Yahoo last year—Primack wrote, while under-rated Boston has spawned many more. In fact, two Boston tech companies, Wayfair* and HubSpot, have gone public in the last 10 days.
But you know what? I'm sick of this rivalry, and all the media attention paid to it. What I think would be more productive is for the tech community to focus on how to integrate New York and Boston into a single, powerful, East Coast tech corridor—a region of complementary strengths that could legitimately challenge Silicon Valley for high-tech talent, investment and, ultimately, exits.
Like Primack, I'm a true-blue New Yorker. I grew up as a kid in Queens, and studied at public Stuyvesant High School in Manhattan. After that I went to Cornell — and only then moved to Boston to earn my MBA. It took a lot of doing to unstick me from New York, but I've now clocked as many years living in Boston as I once did in NYC. I'm even now raising my two young boys as Red Sox fans.
And that Amtrak-corridor experience has really opened my eyes to what each city has to offer the tech and startup economy, if we could only get over our ridiculous "Curse of the Bambino" rivalry.
For one thing, New York does possess a deep expertise in areas like advertising and design. It's also the world's financial capital. What's more, scads of new investors are opening up shop in NYC, creating more opportunities for promising startups to raise capital to fuel growth.
You could even call New York City's not-fully-fulfilled goal of becoming a technology hub another reason to plunk your tech HQ there. As a Cornell alumnus, I'm involved in supporting former Mayor Bloomberg's Cornell NYC Tech initiative, for instance, which will dedicate half of Roosevelt Island to educating a homegrown generation of tech leaders.
NYC-centric media describe this project as establishing an "MIT equivalent in New York City". But in fact, the real MIT already supports the eastern end of a NYC-BOS regional tech hub. Obviously, Beantown is dense with other top-caliber universities, including Harvard, Tufts, BC and BU, all of which are churning out talented engineers and future business leaders.
Less understood, though, is Boston's historic strength in business-software sales. Old-line Boston tech companies such as EMC, in hardware, and PTC, in software, jump-started this niche decades ago by minting extremely talented salespeople who cross-pollinated to other, smaller firms that popped up along Route 128 in the 1990s and later. The dynamic is so strong that many companies headquartered in New York are powered by sales teams based in Boston. Examples include Catchpoint*, which makes Web performance-monitoring software, and Docurated, which sells document-management technology to help companies boost sales.
Selling a mass-scale software implementation requires going well beyond superficial knowledge. The best sales folks manage to embed themselves deeply within their client's infrastructure, so sales happen in a long-term context. I'd even submit there's a "Boston" way of selling software that's low on bluster, high on process – involving much less bravado than is common among Big Apple sales teams. It's easy to fake your way to closing a multi-million dollar media sale, but to sell software to a Fortune 500 company requires a well-honed, scientific sales process. The Boston-trained PTC sales mafia is now running many of the best software companies across the nation.
So, I have a modest proposal. It may curl the toes of sports fans throughout New England, but it'll sit just fine with software VCs in that region. Here it is: why not merge the Yankees and Red Sox? It's already happening in the East Coast software industry, as you can see, and also in the VC industry that funds it. Boston VC firm Flybridge has an equal number of partners in each city and alternates the location of its Monday morning meeting each week. And Boston-based Spark Capital just opened up a NYC office.
All we need to do to execute this merger is to recognize our complementary attributes, build on them and tone down the silly name-calling. In the end, no one cares who the tallest midget is; NYC and Boston should stop arguing over who's #2 to Silicon Valley and combine forces to create one, big new startup power center. Maybe we should just call our new Atlantic tech powerhouse the "Acela Tech Corridor".  It's a mere 200 miles. In Japan, it would only take an hour to travel that distance, probably less time than the average commute in NYC. (So yes, transforming the Amtrak line into a real high-speed rail link connecting the two cities would be a nice step, too.)
Sure, it's fun to pit Boston against New York. The accents! The pizza! Martha's Vineyard or the Jersey Shore? But I'm rooting for Team NYC-BOS, the regional tech hub that's already sweeping every pennant. (Seattle-SF better watch out.)
Neeraj Agrawal is a general partner with Battery Ventures in Boston. This post originally appeared in The Wall Street Journal. 
This material is provided for informational purposes, and it is not, and may not be relied on in any manner as, legal, tax or investment advice or as an offer to sell or a solicitation of an offer to buy an interest in any fund or investment vehicle managed by Battery Ventures or any other Battery entity. 
The information and data are as of the publication date unless otherwise noted.
Content obtained from third-party sources, although believed to be reliable, has not been independently verified as to its accuracy or completeness and cannot be guaranteed. Battery Ventures has no obligation to update, modify or amend the content of this post nor notify its readers in the event that any information, opinion, projection, forecast or estimate included, changes or subsequently becomes inaccurate.
The information above may contain projections or other forward-looking statements regarding future events or expectations. Predictions, opinions and other information discussed in this video are subject to change continually and without notice of any kind and may no longer be true after the date indicated. Battery Ventures assumes no duty to and does not undertake to update forward-looking statements.
*Denotes a Battery portfolio company. For a full list of all Battery investments, please click here.
Back To Blog
ARTICLE BY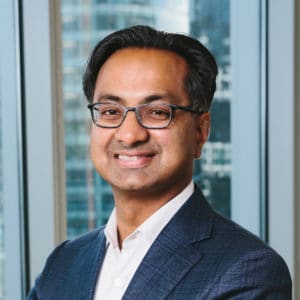 A monthly newsletter to share new ideas, insights and introductions to help entrepreneurs grow their businesses.
Subscribe